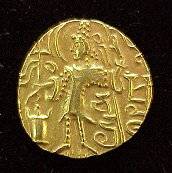 A gold coin of the Gupta Empire, that was used as an instrument of international trade at the port of Tamralipti.
---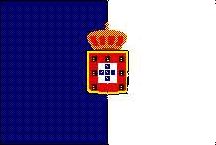 The flag of the Kingdom of Portugal might well have been the first European ensign to fly in what is today the metropolitan area of Calcutta
---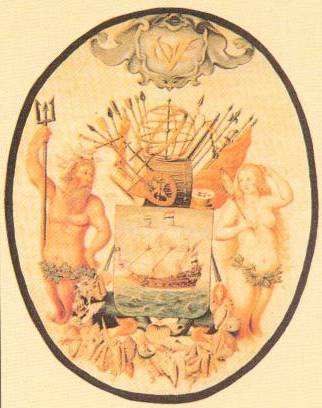 The arms of the Dutch East India Company.
---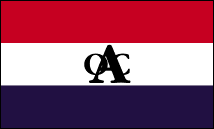 The flag of the Dutch East India Company that once flew over Chinsurah and Baranagore.
---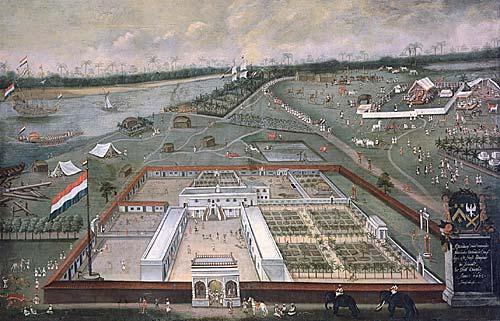 A picture depicting the Dutch factory at Chinsurah, dated 1665.
---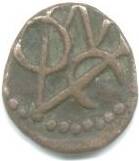 A coin issued by the VOC in 1690, and possibly used in Chinsurah.
---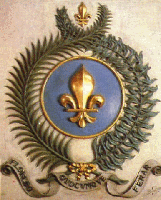 The coat of arms of the French East India Company.
---

The flag of the French colonies that flew over the Administrateur's residence in Chandernagor until 1949.
---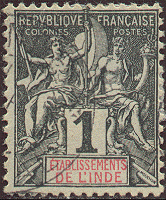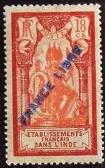 Three stamps of the French "Establishments" of India (from 1893, 1929 and 1949 respectively) and affixed to letters mailed from Chandernagor.
---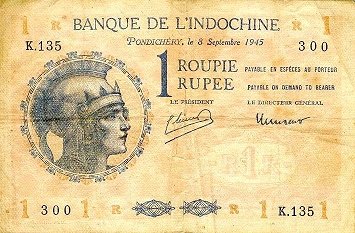 A 1-"Roupie" note issued by the Banque de Indo Chine in 1945. This money was legal tender in Chandernagor until 1949.
---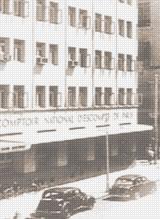 A 1935 picture of the Comptoir National d'Escompte de Paris on Dalhousie Square in Calcutta. This organization, which continues today as BNP Banque Paribas, opened shop in 1860 at the same location. The fact that it opened in the city rather than in the French enclave of Chandernagor only a few miles away, indicates that Calcutta had taken over Chandernagor as the center for trade with France by that time.
---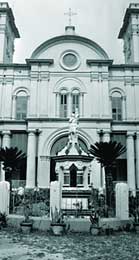 An old picture of the Eglise du Sacre Coeur, French for Sacred Heart Church, where the French atmosphere lingers on to this day.
---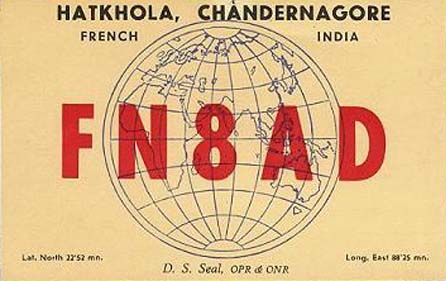 A 1949 reception report card of the French radio station at Chandernagor.
---

The Danish flag that was the ensign of the colony of Serampore and the guardian of wisdom until it was replaced by the Union Jack.
---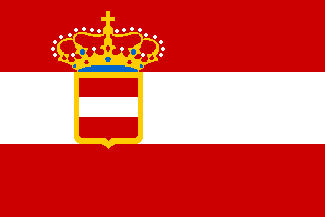 The flag of the Ostend Company that represented Flemish interests in Bengal for about 20 years in the 18th century.
---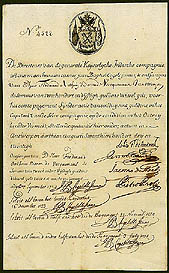 A share of the Ostend Company.